The BOGO (Buy 1 Get 1) week is here!
Join us for XOXO Bogo Week Feb. 18th-Feb 22nd. Each day of the week we will focus on love for SELF, FAMILY, ANIMALS, COMMUNITY & HEALING HANDS intertwined with education on the daily specials. A snapshot of each day of the week:
Monday 2/18: Self
Tuesday 2/19: Healing Hands
Wednesday 2/20: Family
Thursday 2/21:Community
Friday 2/22: Animals/Pets
BOGO Day 1 2/18/19:
Purchase Petitgrain essential oil, get lavender for free! This combination of oils is perfect for remembering self care. Use both oils in a diffuser at night time to wind down or take a relaxing bath. Inhale directly from the bottle during the time if you feel stressed or overwhelmed. You can also take 1 drop internally in a veggie capsule (preferably with food).
You can purchase up to 5 so that is $115 worth of oils! Just add the Petitgrain essential oil to cart and the FREE lavender will be added automatically. If you don't have your own doTERRA wholesale account yet, you can purchase one for $35 for the year and get access to wholesale pricing with no monthly minimums or purchase requirements. If you choose one of the starter kits (enrollment kits), the account is free so you save even more money.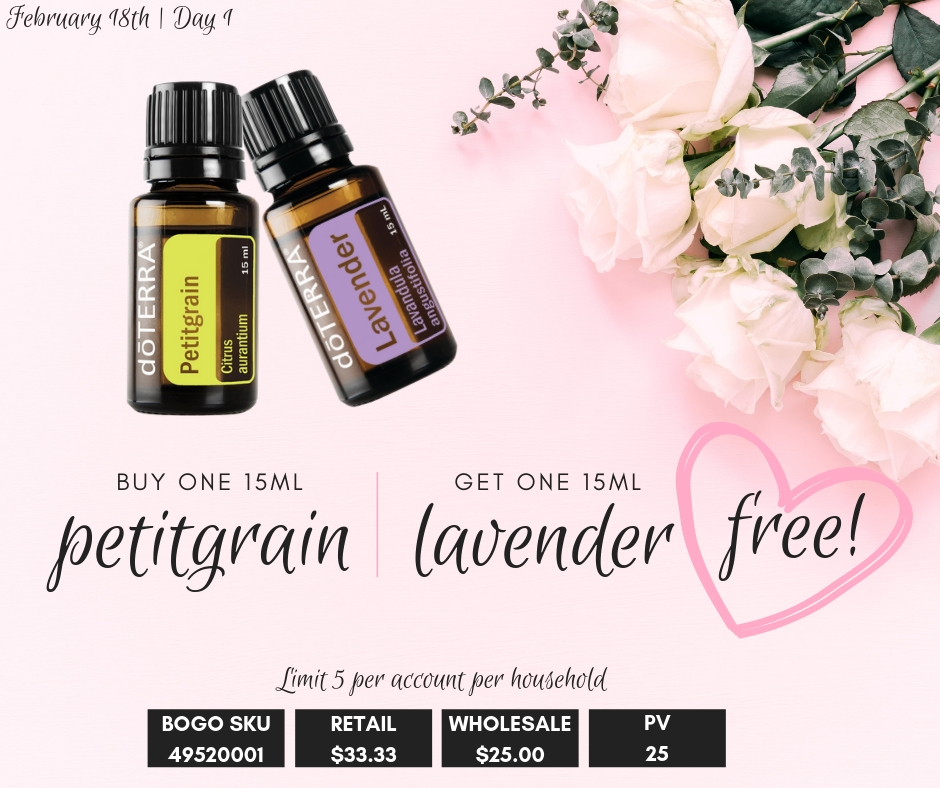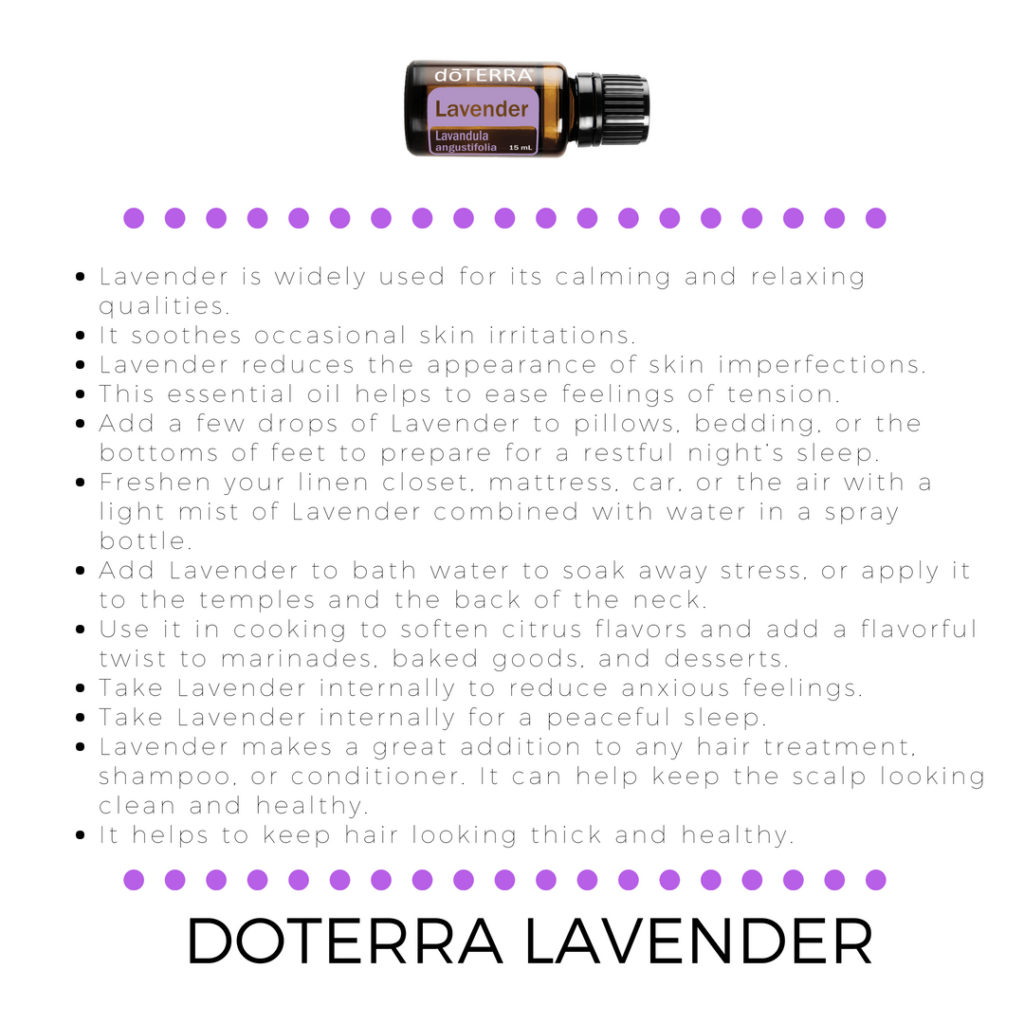 PETITGRAIN
Citrus aurantium
Petitgrain offers exceptional internal benefits including antioxidant support, and promoting the health of the cardiovascular, immune, digestive, and nervous systems.* Its clean and fresh aroma delivers calming and relaxing benefits, easing feelings of tension and stress.
USAGE TIPS
Diffuse for a relaxing and calming effect on emotions.
Take internally to help calm the nervous system and promote restful sleep.*
Rub a drop of Petitgrain together with Lavender or Bergamot and fractionated coconut oil to the bottoms of your feet to promote feelings of relaxation.
Take one or two drops in water or juice to support cardiovascular, immune, nervous, and digestive systems.*
Lavender 
Lavandula angustifolia
Lavender is often considered a must-have oil to keep on hand at all times due to its versatile uses, including calming and relaxing properties that promote peaceful sleep and ease feelings of tension.*
Uses
Add a few drops of Lavender to pillows, bedding, or bottoms of feet at bedtime.
Keep a bottle of Lavender on hand to soothe occasional skin irritations.
Freshen your linen closet, mattress, car, or the air by combining Lavender with water in a spray bottle.
Take internally to reduce anxious feelings.*
Use in cooking to soften citrus flavors and add a flavorful twist to marinades, baked goods, and desserts.
These statements have not been evaluated by the Food and Drug Administration. This product is not intended to diagnose, treat, cure, or prevent any disease.
BOGO Day 2 2/19/19
Purchase the amazing Cheer essential oil blend and get Motivate for free! You can purchase up to 5 on your account. Both of these blends are amazing for a pick me up any time of the day. I like to keep both in my purse and apply on my wrists when needed. If you haven't tried these oils, you will love them!
doTERRA Cheer
Primary Benefits
Promotes feelings of optimism, cheerfulness, and happiness
Counteracts negative emotions of feeling down, blue, or low
Uses
A cheerful heart is good medicine. Rub doTERRA Cheer Touch over your heart.
Keep your chin up by rubbing doTERRA Cheer Touch into the back of your neck.
During winter time, apply to wrist and smell throughout the day for an uplifting aroma.
Apply to the bottoms of the feet of a child who needs a boost of positivity and cheerfulness.
doTERRA Motivate
Primary Benefits
Promotes feelings of confidence, courage, and belief
Counteracts negative emotions of doubt, pessimism, and cynicism
Uses
Rub doTERRA Motivate Touch into your temples to set your focus for the day.
Prime your wrists for a day of hard work with a rub with doTERRA Motivate Touch.
Apply to the back of the neck before giving a speech to instill feelings of confidence.
Apply to pulse points before participating in sporting events or other competitions.
BOGO Day 3 2/20/19
Today if you purchase Oregano essential oil you get Melaleuca for free! These two oils are a real powerhouse for germs. These 2 oils are great with the top 10 essential oils that are in the Home Essentials Kit. With these oils you can have the top oils on hand at your house at a hugely discounted pricing. I use these oils to keep our family healthy.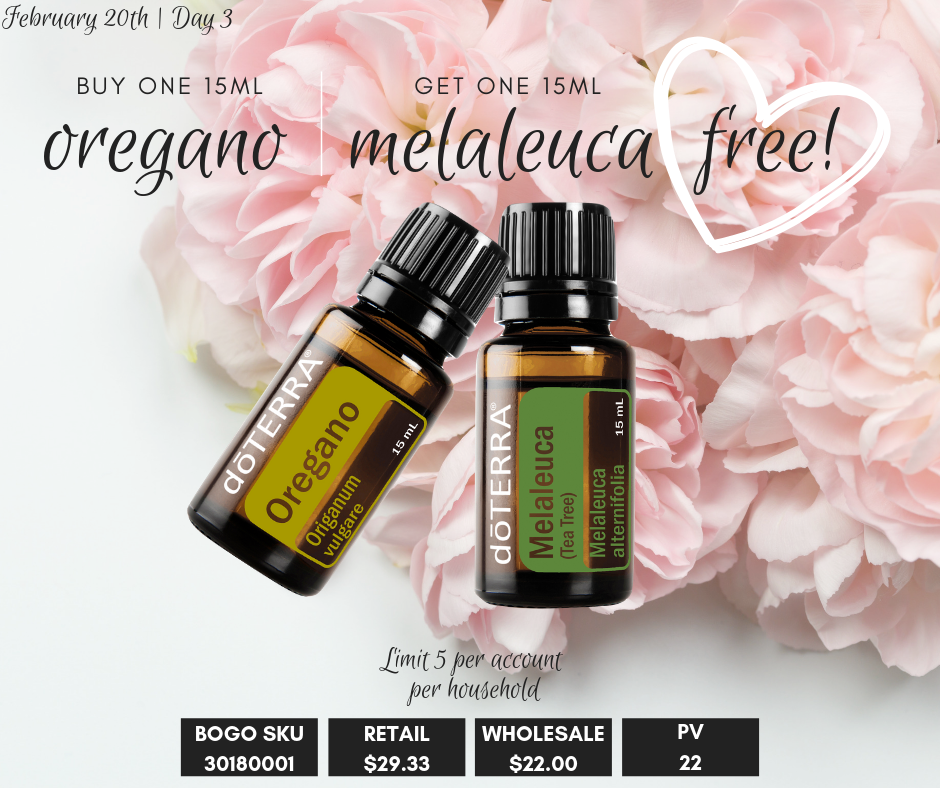 Here is a great video explaining more about Oregano and Melaleuca essential oils.
BOGO 2/22/19
Today is the last day of Buy 1 Get 1 free promotion. Today if you purchase the Serenity blend you get Balance for free! Both of these oils are great for relaxing and during times of dress. You can diffuse Serenity at night time to create a relaxing environment. Balance is great to use in the mornings on the bottoms of your feet for calming during the day.