Is it safe to drink doTERRA essential oils?
In general doTERRA Essential oils can be used topically (on the skin), aromatically (diffused) and/or internally (in drink or water) but there are some exceptions. You always want to check the essential oil bottle to see if it has supplemental facts listed which means it's ok for internal usage. Some essential oils can never be taken internally so you want to be sure to double check before ingesting any essential oils. doTERRA essential oils are therapeutic grade, CPTG grade essential oils and in general are intended for topical, aromatic and internal usage. doTERRA essential oils are safe for internal consumption as long as certain safety guidelines are followed.
Essential oils are great for supporting the body naturally. Please note that most essential oils sold on the market are not intended for internal usage and many are adulterated with chemicals and additives which is why I personally only recommend doTERRA essential oils for my clients who want to support their bodies naturally. It's extremely important to know the quality differences between different essential oil brands and how essential oils should be used in general. Also essential oils that are manufactured for aromatherapy usage (which is most essential oils on the market today) only, cannot be taken internally or used for therapeutic purposes because they are not manufactured for that purpose.
Please note that doTERRA is the only brand of essential oils that can be taken internally in a veggie capsule or add in food or drink as long it's an essential oil that can be used internally. Certain essential oils can never be taken internally so be sure to check the doTERRA bottle for supplemental facts and proper dosage amount before consuming essential oils and follow certain safety protocols.
How to use essential oils in drinks?
You can add essential oils to water, smoothies, milk, tea, or other drinks. I personally love to use essential oils in my daily water as well as in tea and coffee.
Safety Precautions
Please check with your doctor if you are currently using prescription medicines or have existing health condition before consuming essential oils. Also if you are pregnant, certain essential oils should be avoided during pregnancy so please check the each and individual essential oil to see if it's safe during pregnancy prior to consuming. Never use essential oils in plastic containers, only use in glass, stainless steel or ceramic. Please remember 1-2 drops goes a long way because doTERRA essential oils are extremely concentrated and highest quality available. Less is more with essential oils. It's best to start with 1 drop and go from there.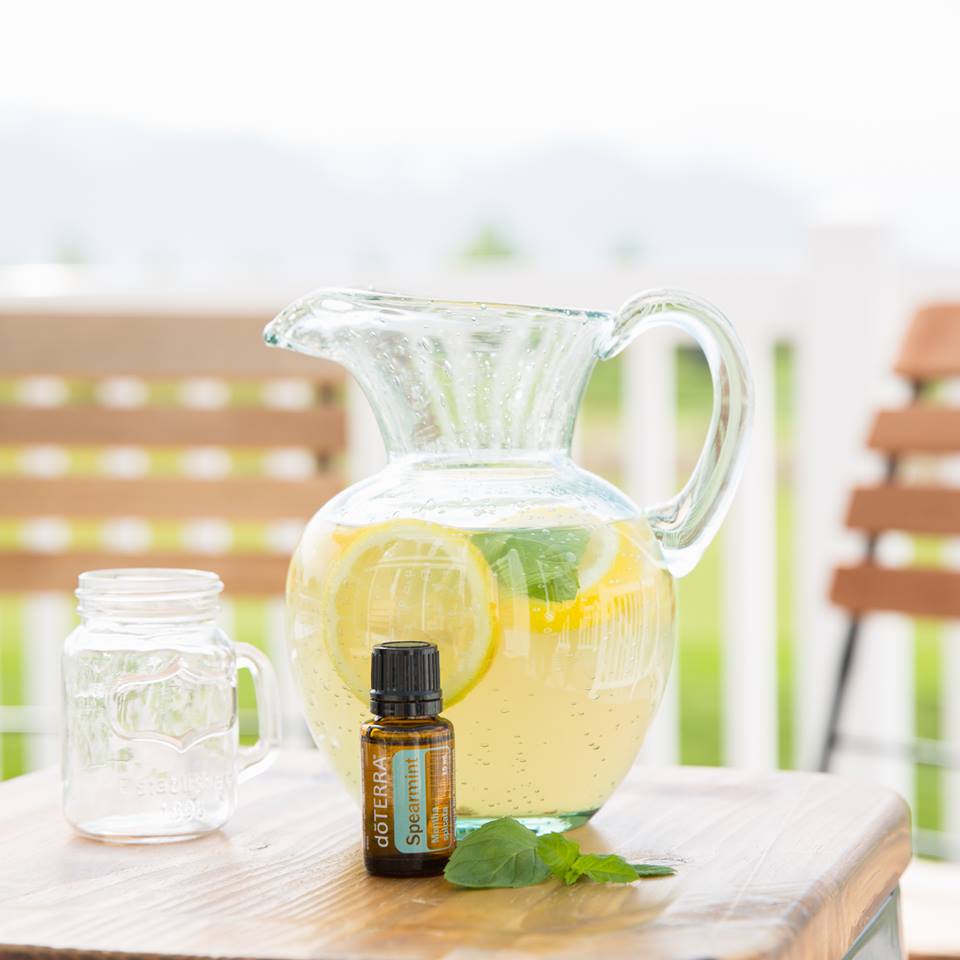 How to get started with doTERRA essential oils?
If you don't have doTERRA essential oils in your house yet, here are the 3 most popular starter kits that help you save money and bring the goodness of nature in to your home. You will also get a doTERRA wholesale account for free for 1 year which gives you access to wholesale pricing at 25% off retail. There are no monthly purchasing requirements or ongoing commitments. Just shop as you go online and you get the products delivered straight to your home. The account works like a Costco account, you get access to wholesale pricing and you get to decide what you want to purchase and when. By purchasing your doTERRA essential oils and other doTERRA products through me, you will also get access to a members only Facebook group as well as ongoing training. Please be sure to check that my doTERRA ID #2760745 is showing when you are purchasing your kit so that I can support you on your health journey.
The Healthy Start Kit
The doTERRA Healthy Start Kit is an entry level, budget friendly way to get started with doTERRA essential oils. You will get the top 10 essential oils in sample size bottles as well as a diffuser. Click here to purchase!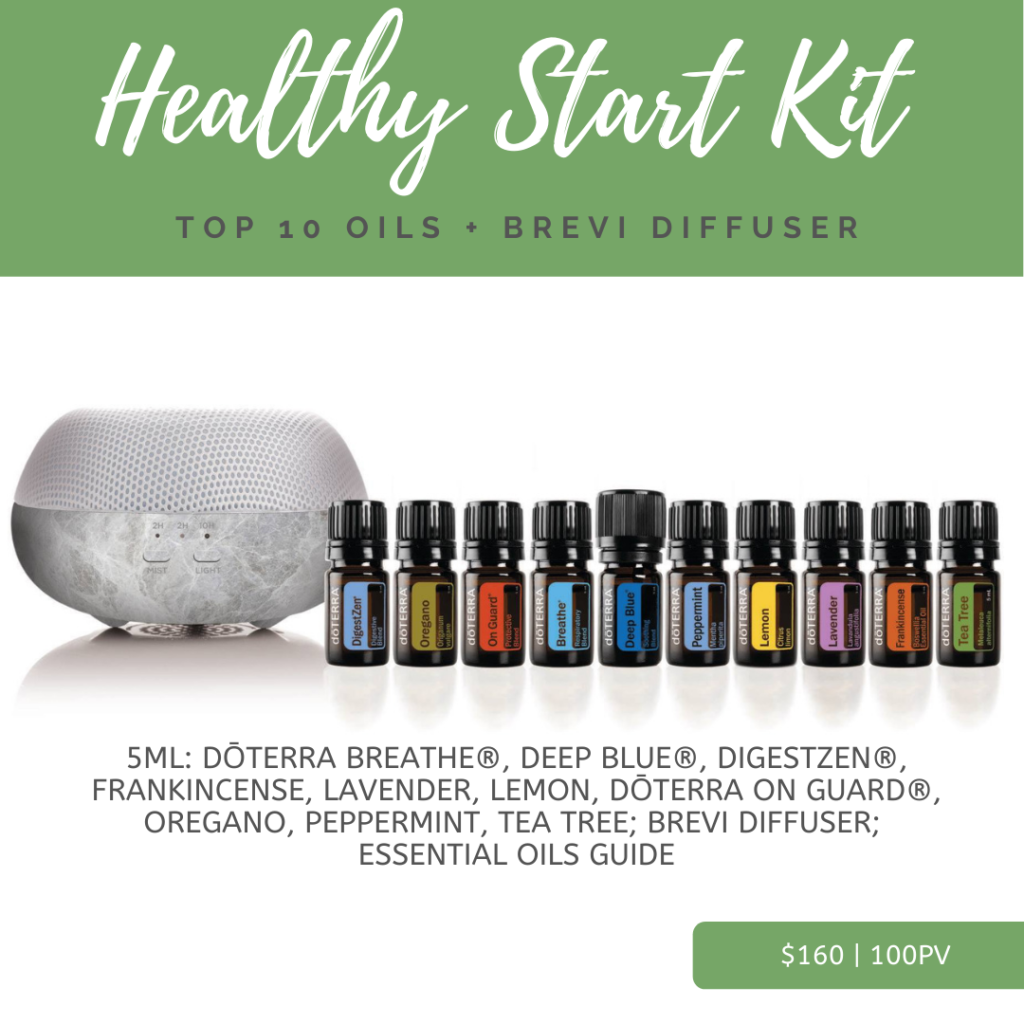 Healthy Home Kit
The doTERRA Healthy Home Kit include the top 10 essential oils as in the small bottle kit above but in full size bottles. It also includes the doTERRA On Guard product line and salon quality non-toxic hair care that is essential oil based. This kit is a great value for the money compared to the starter kit because you save $90 and you get the full size oils bottles which will last longer than the small size bottles in the Healthy start kit. Click here to purchase!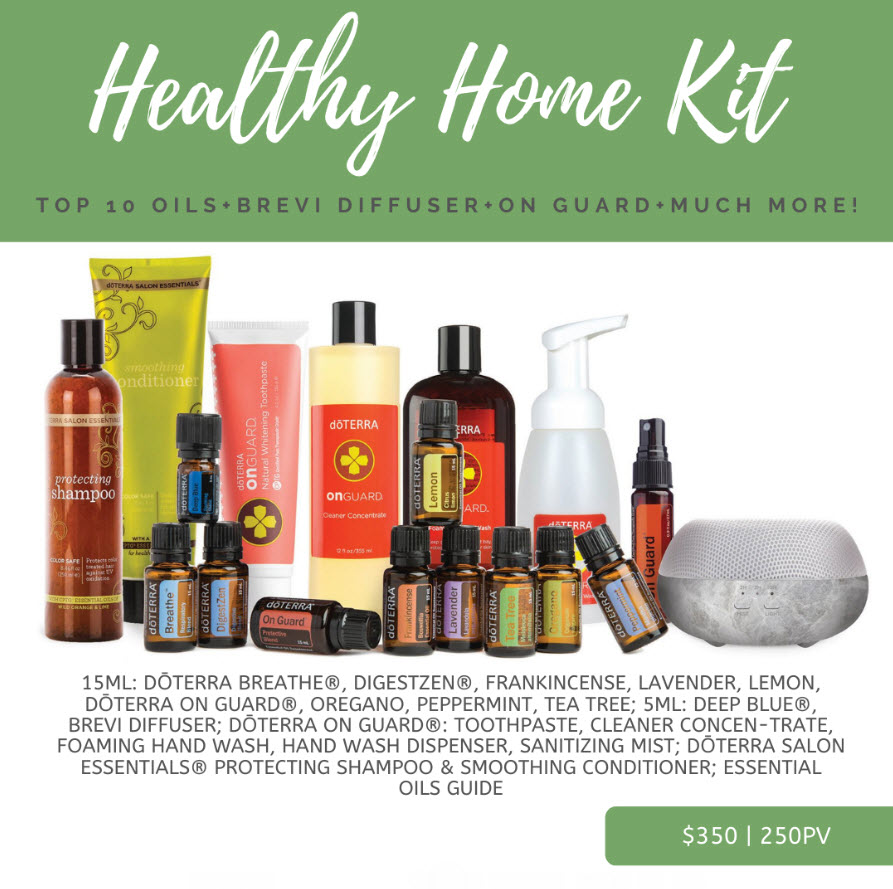 Natural Solutions Kit
The doTERRA Natural Solutions Kit is the most popular starter kit because of the savings. You save $250 and you get everything you need to swap out toxic products in your house with natural, essential oil based products in one swoop. This kit is the best value for the money and helps you get started with huge savings! Click here to purchase!