How To Diffuse Essential Oils Safely
Essential oil diffusing is one of the best ways to enjoy the benefits of various essential oils when done safely. There are certain safety concerns you want to be aware of when diffusing essential oils in your home to avoid possible adverse reactions.
Quality of Oils
Avoid diffusing low quality essential oils which can have chemicals and additives added to them. These additives/chemicals can cause adverse reactions when used. You always want to make sure to only use the highest quality, therapeutic grade essential oils to avoid possible health consequences. You want to avoid low quality essential oils just like you wouldn't want to burn low quality candles with possible toxic ingredients in them. Click here to shop doTERRA, therapeutic grade essential oils.
How to Diffuse
Please note that when you are using pure, therapeutic grade essential oils, one drop is very potent. Always start with 1-2 drops and go from there. With essential oils more is not better, just the opposite. Less is always better. Depending on the size of the room and your diffuser, you want to use about 1-6 drops of essential oil. Also avoid diffusing several hours a day. It's best to diffuse in maximum of 20 minute increments. Diffuse preferably up to 20 minutes at a time and take a break or use a diffuser with intermittent diffusing function. Choose a diffuser that also has a cool mist and auto shut off so that the oils don't burn in the diffuser if the water runs out.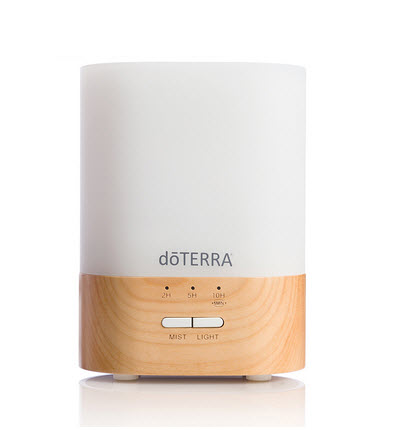 Babies and Children
Use caution when diffusing about babies and children. With babies do not use more than 1-2 drops and it's best to keep the door open. For children and teens you can diffuse 1-6 drops depending on the size of the room and the diffuser but always use caution and remember the rule less is better. Some of the more gentle essential oils, especially for babies and small children include Roman chamomile and lavender.
Pets
Use caution when diffusing essential oils around pets. Certain essential oils should be avoided with pets and these include: Birch, Clove, Oregano, Tea Tree, Thyme and Wintergreen. Never lock the pet in a room with a diffuser. Always have a way for the animal to leave the room if needed. Animals naturally know to avoid the situation if it's not tolerable for them. Also never leave your pet unattended with a diffuser. Watch your pet closely for possible adverse reaction. Some of the safer essential oils for pets include frankincense, helicrysum, lavender, lemongrass, rosemary and geranium. Never diffuse for extended periods of time with pets around. Diffuse preferably no longer than 20 minutes at a time and watch your pet closely. Also please remember the rule less is more when diffusing essential oils around pets. You only need a few drops, 1 drop of therapeutic grade essential oils is very potent so 1 drop goes a long way.
Dogs
Dogs systems aren't as sensitive as cats are. I personally use a diffuser in our home frequently and we have 2 dogs. We have never had a problem. Please follow the safety guidelines above for pets and always watch your dog closely when diffusing essential oils. Never leave your dog unattended or locked in a room with a diffuser running. Avoid diffusing essential oils such as Melaleuca, Birch, Camphor, and Wintergreen or using them topically or internally with dogs.
Cats
Cats are more sensitive to essential oils so you want to use caution when diffusing essential oils with cats. Cats are especially sensitive to essential oils that contain phenols or ketones such as basil, birch, cinnamon, clove, fennel, melaleuca, nutmeg, oregano, peppermint, thyme, rosemary, spearmint, and wintergreen when used topically (on the skin) or internally. They are also sensitive to d-limonene containing oils essential oils such as bergamot, grapefruit, lemon, lime, orange, tangerine and dill. Follow the safety precautions for pets listed above when diffusing essential oils around cats. Never leave your cat unattended or locked in a room with a diffuser running.