Here are some great recipes to use doTERRA essential oils during the summer. Please note that these recipes only apply to doTERRA essential oils because they are the highest quality on the market today and it's the only brand I personally use with our family. doTERRA is also the only brand of essential oils I recommend to my clients. You can read more about why doTERRA vs other brands here.
After Sun Soothing Spray
Ingredients
1 cup aloe vera juice
1 teaspoon vitamin E
Note: You can find aloe vera juice at your local health food store.
Instructions
Combine all ingredients in glass spray bottle.
Shake to combine.
Body Wipes with Lavender and Geranium
Combine 2–3 tablespoons witch hazel, 3–5 drops Lavender, 1–3 drops Geranium into Ziploc bag or small Tupperware container. Add quartered paper towel pieces. Use to refresh skin or as a makeup remover. Note: Instead of paper towels, you can re-use fabric pieces.
Beach Waves with Lemon and Rosemary
Add 1 teaspoon doTERRA Healthy Hold Glaze, 2 tablespoons Epsom salt, ½ teaspoon sea salt to an 8-ounce spray bottle, followed by, ½ teaspoon doTERRA Fractionated Coconut Oil, 5 drops Rosemary, 5 drops Lemon. Top with water and shake. Spray generously on hair while scrunching with hands for a natural, wavy look.
Cool Breeze with Peppermint and Ylang Ylang
Pour 1 cup Aloe Vera juice, ¼ cup water, 3–5 drops Peppermint, 3–5 drops Ylang Ylang into glass spray bottle; shake well before use. Application tip: Avoid contact with eyes.
After Sun with Frankincense and Sandalwood
Combine 1 cup Aloe Vera Gel, ¼ cup doTERRA Fractionated Coconut Oil, 12–15 drops Frankincense, 8–10 drops Sandalwood to glass spray bottle; shake well before use. Spray on skin after sun exposure for a soothing affect.
Tangerine Paradise Punch
Ingredients:
1 quart lemonade
3 drops Tangerine oil
1 cup orange juice
2 cups tropical frozen fruit
Instructions:
Put all ingredients in a blender. Blend until smooth.
Pour juice into pitcher or cup.
Tips:
Put leftover frozen fruit in pitcher for a pretty garnish and to help the drink stay cold.
Non-Toxic Room Spray
Ingredients
½ cup distilled water
20 drops citrus oil or blend
Instructions
Combine water and essential oil in 8 ounce glass spray bottle.
Tip: Use more or less essential oil to control the strength of the aroma.
Shake before each use.
Pink Salt Lime Foot Scrub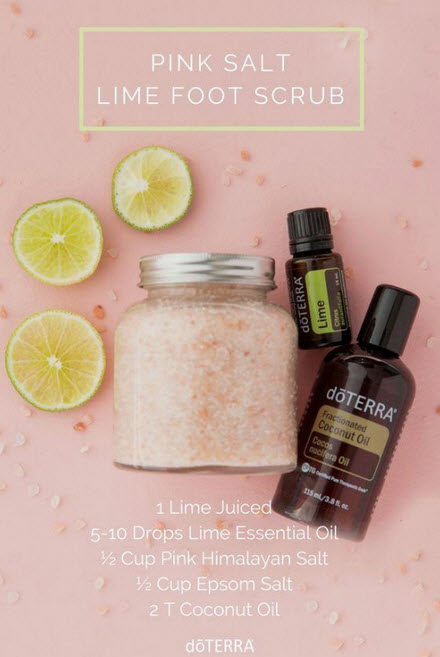 Lime Diffuser Blends