Getting Started With Essential Oils
Getting started with natural solutions for your home is very easy. There are different oils to choose for different things so depending on what you are looking to accomplish, I can help you determine what oils to start with. Generally the top 10 essential oils for any home are lemon, peppermint, lavender, frankincense, melaleuca, oregano, doTERRA Breathe, Deep blue, Digestzen and Onguard. They cover most of the natural ways to support a healthy home and body. 
There are so many essential oil companies that is hard to choose the right one and figure out what oils to get. I personally recommend doTERRA because of their strict quality control and testing as well as their proprietary essential oils blends that are easy to use. The doTERRA essential oils are therapeutic grade and tested with GC/MS testing which verifies the compounds in the oil.
There are many essential oil companies out there who advertise their oils to be 100% pure but they are not. 100% pure can mean that there is only 25% of essential oil and the rest is vegetable oils or some other additives so you want to be extremely careful with the oils you purchase. The highest quality essential oils you can purchase are therapeutic grade.  All doTERRA essential oils are verified therapeutic grade meaning they can be used for all essential oil applications (diffusing, external and internal). Always check the essential oil bottle to verify it's safety for internal usage before using it internally. Also if you are currently taking any medications, be sure to check with your doctor prior to ingesting essential oils. Please note that some essential oils are not safe to use internally and also some are not safe to use when pregnant. If you have any questions on safety of essential oils, please feel free to contact me. doTERRA essential oil bottles show which ones of the essential oils can be taken internally and which are not.
Items & Oils You Need To Get Started
A bottle of carrier oil. My favorite carrier oils is  fractionated coconut oil because it's light weight and non-greasy. It also absorbs quickly. Why carrier oil? I always recommend using a carrier oil to minimize skin reactions and help with the essential oil application and absorption. Certain oils can be used "neat" on the skin, meaning no carrier oil is needed, but as a general rule, I recommend using a carrier oil. You typically only need about 1 teaspoon to blend oils in your hand. I also always recommend diluting when applying essential oils on children. Just add the oil on your hand, add the essential oil and apply on the area of concern or on the spine, back of the neck and bottoms of the feet.
Essential oils: lavender, lemon, tea tree (melaluca), frankincense, peppermint, oregano, Breathe, Deep Blue, Digestzen and Onguard. Lavender essential oil is great for burns and cuts as well as for supporting relaxation and sleep. Lemon essential oil is great for uplifting the mood and for gentle detox by adding to water etc. Tea tree essential oil is great for various skin issues and environmental threats. Frankincense essential oil is great for supporting cellular function, healthy skin and feelings of relaxation. Frankincense is called the king of oils due to it's anti-inflammatory properties. Peppermint supports a healthy respiratory function and digestive health.  Deep Blue is great for occasional aches and for working out. Digestzen is a great for supporting healthy digestion and for reducing occasional indigestion, bloating and gas. doTERRA onguard is great for supporting a healthy immune system and healthy respiratory function.
If you are using the oils without a carrier oil, apply them on the bottoms of your feet. doTERRA also sells both oils in convenient roller bottles already diluted ready to go. I like to keep these roller bottles on my desk all times and my husband and children know they can use them whenever they feel like they getting down with something. I love it that doTERRA offers an already created roller bottle blends specifically designed for kids. The doTERRA kid's kit is convenient to have an hand and it comes with flash cards with usage tips. I like to make my own blends depending on what is needed but love to have the ready made essential oil blends that are propriety to doTERRA so that my family can use them whenever needed. doTERRA makes getting started with essential oils extremely easy and fun.
Essential oil diffuser. I highly recommend getting an essential oil diffuser. You can use it to diffuse essential oils in the air. You usually only need about 3-5 drops in the diffuser per 100ml. My favorite essential oil diffusers are from doTERRA because the quality is unbeatable. I've tried other diffusers and they don't compare. Essential oil diffusing is a great alternative to toxic candles. Choose an oil depending on what you would like to accomplish, for example Lavender essential oil or the doTERRA Serenity essential oil blend are amazing to diffuse at night time for relaxing and promoting sleep, lemon, peppermint, lemongrass, lime and wild orange are great options for diffusing for a fresh scent in the house that is uplifting at the same time.
Here are some of my favorite essential oil kits by doTERRA to get started you started with natural options for your home. These are essential oils that you can trust to be high quality, therapeutic grade essential oils to support your health naturally.
To take advantage of the wholesale pricing, the doTERRA wholesale account is the way to go because there are no monthly commitments or purchasing requirements. It's like having a Costco or Sam's club account. You get access to wholesale pricing and you get to decide what you buy and when you want to buy it.
Introductory Kit
This introductory essential oil kit includes doTERRA lavender, lemon and peppermint essential oils. Retail $26.67, wholesale $20. It's the perfect mini kit to get started with. Click here to order!
Family Essentials Kit And Beadlets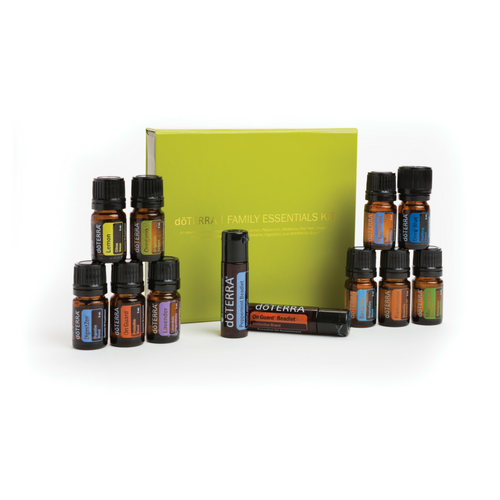 This comprehensive family essentials essential oil kit is a great collection of the main essential oils to get you started including the doTERRA proprietary Breathe and Onguard oils. It also includes oil blend Deep Blue which is great for muscles and joints. Retail $200, wholesale $150. This is one the most popular starter kits. Click here to purchase!
Home Essentials Kit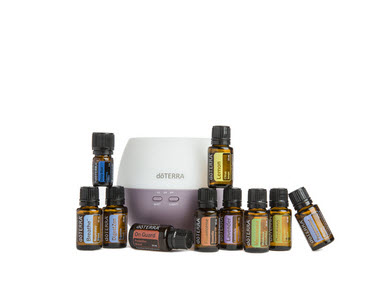 This Home Essentials kit includes bigger sizes of the most common essential oils you need to get started as well a diffuser. This also includes the Breathe and OnGuard essential oils which are amazing. Retail $366.67, wholesale $275. This kit is an amazing value and one of the most popular started kits. Click here to purchase!
Emotional Aromatherapy Kit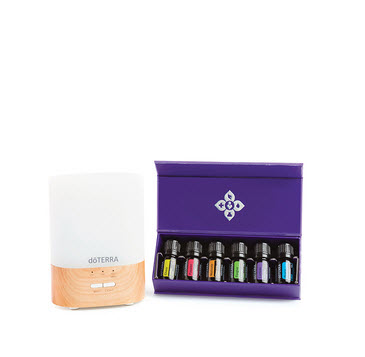 Interested in the power of essential oils for the mood? This kit comes with all the doTERRA essential oils that are great for uplifting and balancing. The kit includes a diffuser and a booklet. Retail $259.93, wholesale $195. Click here to purchase!
Natural Solutions Kit
The Natural Solutions Kit below includes essential oils as well as supplements and body care products to get you started. You also receive product credits and start earning 15% back on all future purchases by purchasing this kit. This kit is one of the most popular kits and the best value to help you get started with everything you need at a discounted price and to replace the toxic products in your home with the healthier alternatives. This kit is one of my most favorite.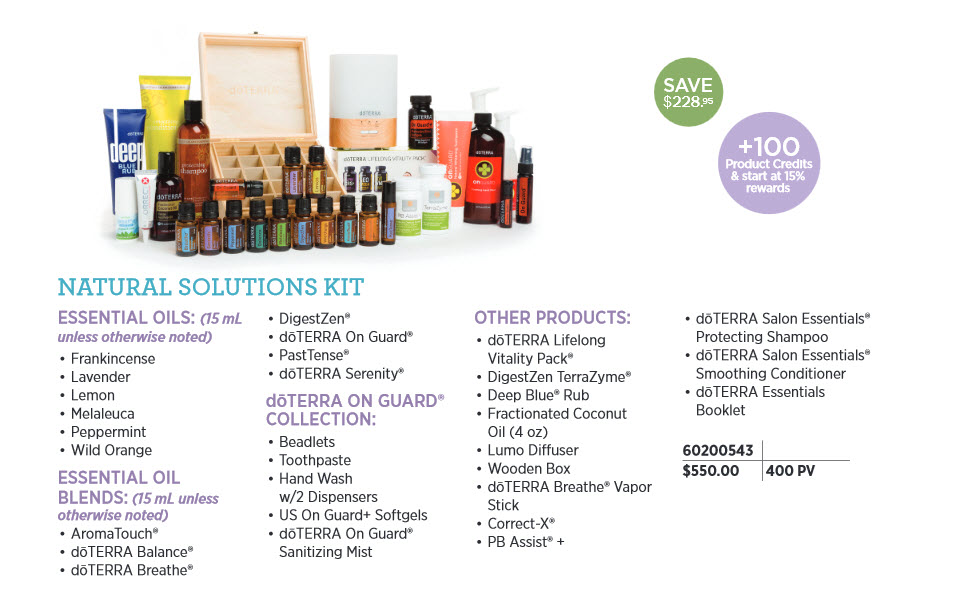 The Every Oil Kit
The Every Oil Kit includes every essential oil you would possible need as well as a bottle of a carrier oil and a diffuser. You'll also receive 200PV in product credits and start earning rewards at 20% for future purchases. This is the best option if you want to get everything at once and save money as well as get 200PV credits that you can redeem for additional products for free.
The Diamond Kit

The doTERRA Diamond Kit is another popular  kit because you save over $1,000 by purchasing this kit and you will also receive 400 free points to redeem for free products and start earning rewards at 25% level. This kit is an amazing value!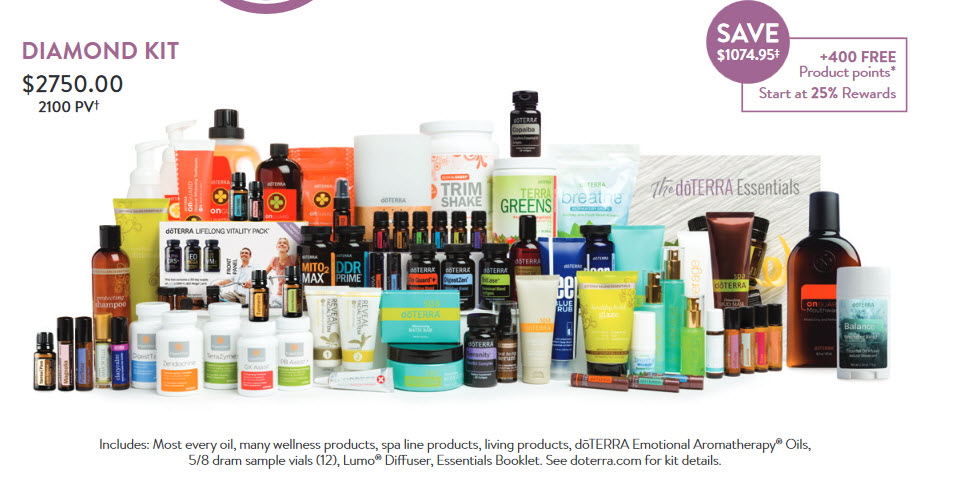 To purchase any of the kits above, go here and choose the one that suits your budget and health goals. Please make sure my company name, Eden Purity, shows as the referrer ID#2760745 when you make your purchase so that I can support you on your essential oil journey. You will get an exclusive welcome package as well as access to a member's only Facebook group. I'm here to help and share my essential oil knowledge with you to help you take charge of your health and the health of your family and loves ones.